Purchasing a personal phone using your Employee Purchase Plan discount?
Please make sure you have logged in by clicking the LOG IN button on the immediate right in order to continue.
Take a minute to review all the information below before proceeding. Once you're done, click the "Click Here To Order" link directly below or at the bottom of this page to place your order. If you do not see the link then please make sure you log in using the instructions above. This link is used no notify your Account Manager that you are interested in joining on an EPP. You will be contacted before any changes are made to your account.
Let's get started.
Step 1.
Your first step is to choose a device that is right for you.
If you are unsure about what device you'd like to order, select "Choose Price Plan First/No New Device." option. Your Account Manager will help you make an informed decision.
If you are adding or activating a new line to Telus or porting a number from another cellular provider (not including Koodo), then you qualify for up to a $400 hardware discount (currently only $200 available for iPhone 7 & 7+ 32GB) off the 2 year term price on our EPP products page. The discount is applied to the phone hardware price only and cannot be used towards any other related costs. The hardware discount is subject to change.
Existing Telus lines pay the device pricing listed on our EPP products page following this page and prices are based on 2 year contracts. Don't hesitate to contact your sales rep at Victoria Mobile if you have any questions about the phone choices.
Please bear in mind, prices are always subject to change with or without notice. Your Account Manager will always give you the most up to date information available.
Step 2.
Choose your Voice and Data plan.
The main user on the account, or the "Primary" user, chooses one of the three Premium Smartphone voice plans from the Telus Mobility consumer website. We have listed those for your viewing below. Then the Primary user chooses a data feature. You add those two values together and minus the predetermined discount that has been assigned to your organization. So for example, if you choose a $65 voice plan and a $35 data feature then your total would be $100. If your discount is 10% then your actual total would be $90 per month. Please ask your sales rep for information on your discount if you are unsure.
Here's what's included in all the plans:
Unlimited nationwide text, picture and video messaging
Voice Mail 25, call display, call waiting and conference calling
Unlimited family calling within the same account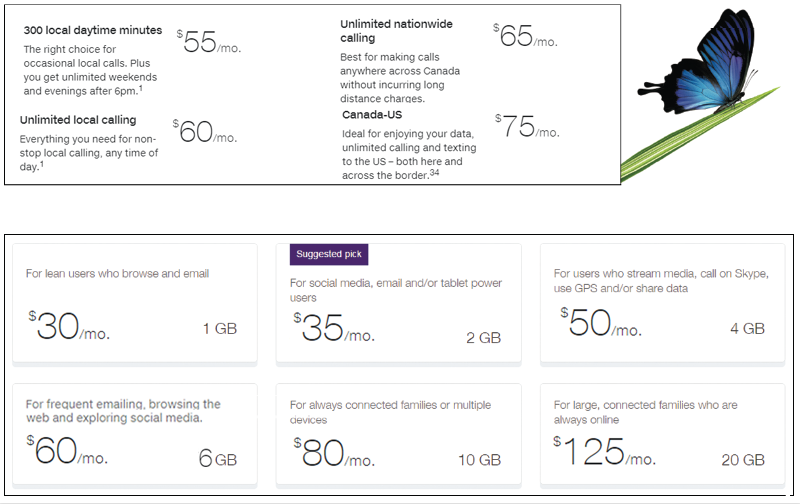 If you have or are planning to add more than one user, or "Secondary" users, then they need to choose one of the Premium Smartphone voice plans as well. Make sure the primary user chooses an adequate data plan so the secondary user(s) can share from it since it is a pooled feature. The secondary user(s) will not get a discount off of their voice plan but they will take advantage of the discount that the primary user receives on his/her shared data feature.
Step 3.
Fill out contact form.
Click the "Click Here To Order" link below and select the options you've chosen for your order. Please note that the Primary user is the only user that receives the corporate discount. The Shopping Cart automatically applies your corporate discount to the first item in your shopping cart so please disregard the discount if you are only ordering a "Secondary" phone today.
After selecting a phone and plan, you'll be directed to a form to fill depending on whether your EPP is a New Activation, Renewal, or if you're Porting your number. Upon completing this form, you will receive an automated email going into detail about what your Account Manager will need to set up your EPP. Your Account Manager will review the Order and form submitted and contact you or to set up a meeting to activate your plan.
Please don't hesitate to contact your sales rep if you need any help or have any questions regarding the information above.
Andy Farintosh    250-883-0217    afarintosh@vicmobile.com
Dave Dalby           250-883-0185    davedalby@vicmobile.com
Steve Mullen        250-896-7777    steve@vicmobile.com
Heather Carter    250-475-2425    hcarter@vicmobile.com
Andrew Ross        250-208-7541    andrewr@vicmobile.com
If you are unsure of your sales rep then please contact Heather Carter and she will redirect you.
Please enjoy your new phone and discounted rate plan. We appreciate your business.