Kenwood DMR Master List. Featuring Portables, Mobiles and Repeaters.

Kenwood- TK-D240 / D340
Kenwood's DMR Radios have to ability to switch between Analog, Digital, and Nexedge applications. This portable comes in frequencies; VHF 136-174 MHz, and UHF 406-470MHz.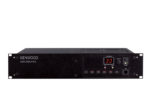 TKR-D710 /D810
The TKR-D-X10 DMR range of Digital repeaters for your Analog and Digital communication needs. VHF 136-174 MHz, and UHF 400-470 MHz.